Spend 10 minutes browsing weddings on Pinterest, and you'll quickly see that Mason jars are all the rage. From decorating to drinking, couples the classic canning jar everywhere at their rustic and country weddings. We love them for vases and signature drinks – and for useful favors you can send home with your guests. How will you use the Mason jar? A few ideas from our sister stores.
Country Charm Invitation | Busy Bride Wedding Guide
Hearts decorate the little Mason jars that hang from the tree on this adorable invitation suite.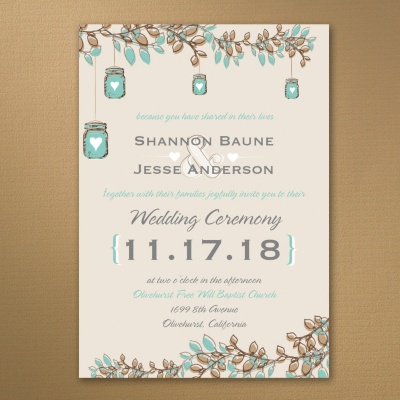 Rustic Inspiration Invitation | Busy Bride Wedding Guide
The Mason jar-shaped invitation is one thing, but what we really love is the repeated jar pattern on the inside of the envelope!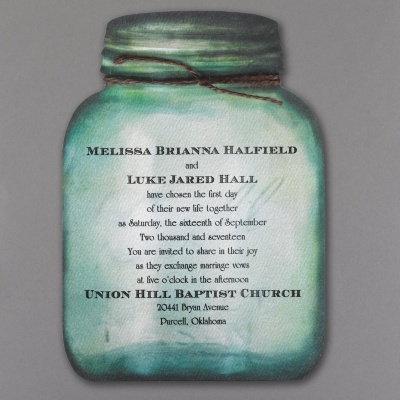 Personalized Mini Glass Mason Jars | Bella Donnielle
We can't think of a better way to thank guests than a mini Mason jar full of sweet treats!
Personalized Mason Jar Mug | Bella Donnielle
It doesn't matter what you're serving at your wedding – it will taste great out of these sturdy glass Mason jar mugs. Plus, they make great favors!
Personalized Mason Jar with Lid | Bella Donnielle
You've got your choice of lid with this personalized jar. Choose the solid lid, and fill the Mason jar with treats, bakes goods, or other favors. Or, choose the flower lid and find fun straws so guests can use them for their favorite drink at your reception.